Google Mobile Resource Center
From the icXadvisor
Google is now lowering the page rank of websites that are not optimized for use on smartphones (important: tablets are unaffected by this change). In some cases, even sites that appear to be smartphone-friendly may still be penalized in the search rankings if they do not meet specific criteria.
Don't wait for your site's rankings (along with your traffic) to plummet… read our white paper to better understand the issue – and more importantly – what you can do about it.
icXadvisor: Google Demotion for Mobile
An overview, analysis and actionable advice on Google's mobile-friendly demotions

This white paper addresses:
Who is at risk of seeing their Google rankings drop, and why.
What does mobile-friendly mean? There's more to it than you think.
Action items to make sure you are in compliance… and in position to leap-frog your competition.
Download the White Paper Now
The Google Mobile Friendly Test Tool
Google has created an online testing tool that you can use to see if your site is mobile-friendly in the eyes of Google. Below are examples of what you will see if your site passes – or doesn't pass – this basic text: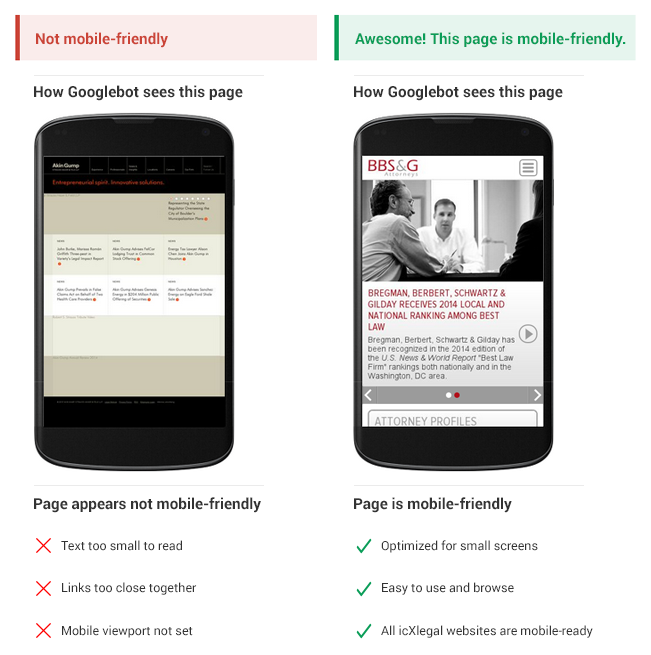 Click here to access the tool and see if your website passes 
If you thought your website would pass and it does not, you may need to access your Google Webmaster Tools account to diagnose the problem in more detail. For more firms, this level of analysis will require getting assistance for your web developer or consultant.
IMPORTANT NOTE:
Even passing the test above does not guarantee that your website is actually INDEXED by Google as being mobile-friendly! Be sure to check results linking back to your website from a mobile device to confirm that they bear the "mobile-friendly" label. If they do not, you must pursue steps to get your site re-indexed as quickly as possible.
Need More Help?
icXlegal offers a range of outstanding and affordable website plans, all of them mobile-friendly and compliant with Google's new standands. Contact us to learn more: